First Response Services is your locally trusted, water damage restoration company in
Byron, Georgia
.
Water related disasters can expose your property to a significant risk of damage. When your Byron GA home or business comes into contact with water, the building materials on your property can take on damage quickly. Water damage Byron will rapidly saturate porous materials and begin deteriorating those materials immediately. The only way to stop the damage from worsening is to remove the water and dry the saturated materials. It is for this reason that when you find water damage Byron on your property, it is important that you contact your local water damage professionals right away.
At First Response, we understand the importance of acting quickly. Because of this, we offer 24 hour emergency response services, 365 days a year. No matter when you are impacted by water damage, you can rely on us to respond to your emergency and provide you with comprehensive water damage restoration services. At the first sign of water damage, give First Response a call to schedule your water damage inspection.
Byron GA Water Restoration Services
When you call First Response, our goal is to minimize damage and get you back in your home or business as quickly as possible. As a full service water damage restoration company, we are able to handle every step of the restoration process, from initial inspection to the final repairs and walk through. When it comes to water damage Byron, you can trust First Response to have your back.
24/7 Emergency Water Removal
Byron, GA
Common Causes of Water Damage Byron
In Byron, and central Georgia in general, there are more causes of water damage than we can list. You can't prepare for everything, but understanding the most common causes of water damage will allow you to prevent unnecessary damage to your property. The most common causes of water damage that we come across in Byron include:
Water Extraction in Byron GA
The most important step in the water restoration process is the water extraction phase. Because water will seep into building materials and cause damage every second it remains, the priority of any water restoration project is to remove the water and dry the material. At First Response, we will inspect the damage first, but as soon as we've agreed on a restoration plan, our water extraction team will move in to extract the water. Utilizing our industry leading, truck mounted, water extraction equipment allows us to quickly and effectively remove every last drop of water from your property. Drawing out the water will stop the damage, saving time and effectively decreasing the cost of the restoration.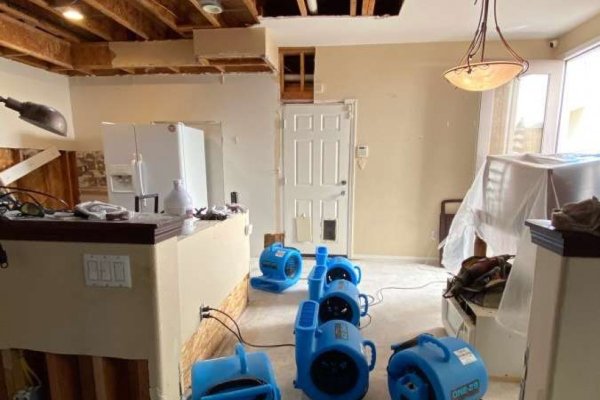 Water Damage Byron Restoration Process
Water damage comes in many different forms, sizes, and complexities. Because of this, we have to tailor each restoration project to the specific needs of that project. While our process may shift to fit the project, the steps of our process generally stay the same. 
Byron GA Water Damage Repairs
It is not uncommon following water damage Byron for your property to be in a state of disarray. Not only will there be building materials that require replacement, you may also need water damage repairs. Fortunately, our water damage Byron restoration services are comprehensive to include water damage repairs.
Our team of water damage Byron technicians are skilled in making seamless water damage repairs that complement existing structures. Count on us to make your water damage repairs job a success.