Flooring Installation Services
It doesn't make much sense to spend money and time on a home remodeling project just to neglect the floors. First Response's flooring installation services provide a total hassle-free solution to any flooring project, big or small.
Access to our Design Showroom allows you to mix and match materials and finishes to perfect the look you want. You will be welcomed by a friendly, experienced staff in the showroom. Then, when it comes time for your flooring install, you'll have the pleasure of working with our professional and qualified installers onsite. Once the flooring is secured in place, First Response Services is only a call or click away for any questions that come up about the care of your flooring selection.
How to Choose the Best Flooring for Your Home
You want your floors to look nice. Beyond the surface appearance though, you also want your floors to last for years to come. For this reason, it may be challenging to know how to choose the best flooring for your home. With so many options, colors, styles, and specifications, where do you start? Our design professionals will help you answer these questions on how to choose the best flooring below. 
Get a Floor Installation Quote Today
FRS Carries All Types of Flooring
Each flooring installation job is just as unique as the homeowner overseeing the project and the home to be remodeled. This is why First Response Services offers a wide range of materials, textures, and colors. Whether you're remodeling top to bottom or just want to update the floor beneath your feet, our design professionals help you choose a floor that complements your taste and budget.
Your Central Georgia Flooring Installation Company
At First Response Services, we enjoy meeting our clients' needs. This starts by listening to your vision and preferences in our Design Showroom. Then, our skilled craftsmen visit your home to verify the square footage and identify any potential obstacles to the process.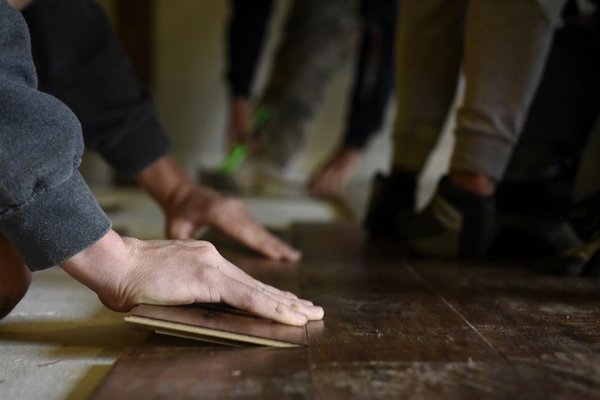 Finally, certified installers properly install your flooring to the most stringent standards and protocols.
Our team guides you through each phase of the project, from the inception of your ideas to installation. Rely on FRS for superior customer service, high-quality products and brands, as well as affordable pricing. We prioritize staying up-to-date on technological advancements and changes to installation methods in the flooring industry. It's no surprise that we are the most trusted flooring company in Middle Georgia!