Kitchen Remodeling Services
First Response Services is well-reputed in Middle Georgia for providing superior kitchen remodeling services to homeowners in the area. Our experienced team of in-house design and building professionals firmly believes that kitchen remodels should deliver on functionality, accessibility, and long-term value. 
As such, we customize the entire kitchen remodeling project to meet the demands of your lifestyle while incorporating the latest design trends. With the only Design Showroom in the region, you'll find that First Response Services is uniquely poised to help you realize the potential of your home's kitchen.
Skillful, experienced handymen remodel your kitchen in an efficient and timely manner. Even still, we quickly pivot and personalize kitchen remodels based on your design ideas and wants. You can rely on First Response Services to revamp your kitchen quickly, affordably, and to your liking.
The Many Components of Successful Kitchen Remodels
Your kitchen is more than just cabinets and appliances. First Response Services recognizes that the beauty is in the details. By visiting our Design Showroom, you'll be able to pair and compare fixtures and finishes to make the kitchen of your dreams. First Response Services ensures a successful kitchen remodeling experience by giving attention to the following aspects:
Choose the Best Kitchen Remodeling Materials
Your home is already a long-term investment. Kitchen remodels are a renewed commitment to your investment. For this reason, First Response Services only carries the highest quality materials, from the most respected, reputable brands. These include: 
Get a Kitchen Remodeling Quote Today
3 Types of Cabinets for Every Budget & Style
When you visit our Design Showroom, you'll find three common types of cabinets. Each provides different benefits, aesthetics, and are available at different price points. Our professionals assist you with the selection that makes the most sense for your needs and space. Consider the following options.
Functional Countertop Designs With Style in Mind
Your countertops play an integral role in your kitchen. After all, you prepare and serve food here, in addition to making fond memories with your family. As such, you need a material that is durable enough to withstand stains, scratches, and heat, while still looking elegant.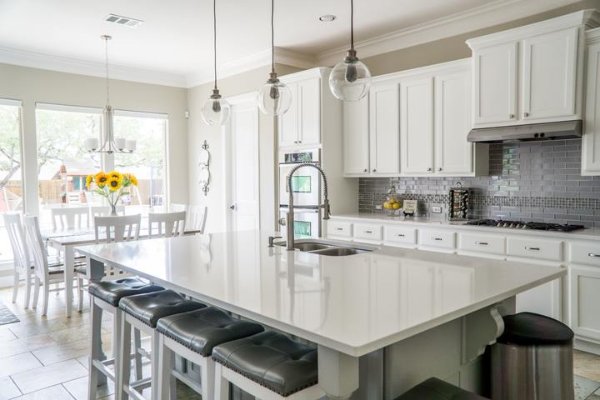 With so many options available, it is no surprise that choosing your countertops can feel daunting. Our design professionals will help you make the best selection based upon how much you utilize your countertops, the maintenance investment you're willing to make, your functionality requirements, budget, and style preferences.
From laminate and marble to tile and granite, we have a material that works for you. Stop by our Design Showroom today to pick out your countertops for your kitchen remodeling project.
Long-Lasting Appliances With Appeal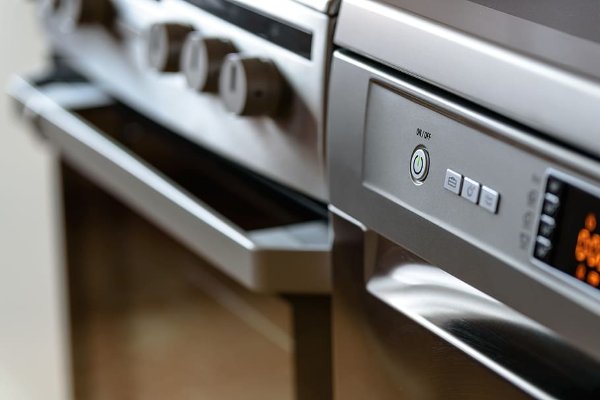 Regardless of if you're gutting the kitchen, or are working off an existing layout, the layout of your kitchen dictates many of the appliances you can buy. We make suggestions for appliances based on these facets, as well as your budget and functionality of the kitchen space.
Our design specialists take the traffic flow from adjoining rooms, structural constraints, and aesthetics into consideration when completing kitchen remodels. First Response Services helps you choose appliances based on their efficiency, in addition to how their handles, knobs, illumination, and finish flow with the other surfaces in the kitchen. One thing is certain — by the time we have completed your kitchen remodeling project, you'll have the kitchen of your dreams.
Fantastic Flooring Finishes
When it comes to your kitchen, the floors are a bit different than in other areas of the home. Because the kitchen is the heart of the home, the floors need to withstand foot traffic, spills, dropped dishes, and more. But, that's not to say that style is not as equally as important.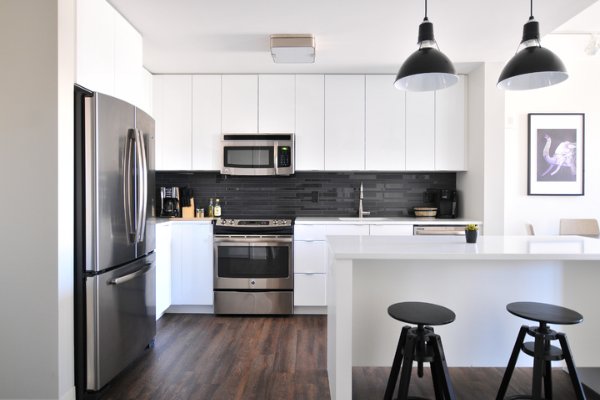 Our design experts take each of these factors into consideration. We make suggestions based on comfort, ease of cleaning, cost, and other selections you've made for your kitchen remodel. 
When you work with First Response Services, you can trust that you're purchasing the highest-quality materials, whether you decided on hardwood, laminate, vinyl, tile, or any other material. Our team ensures that you love what you're walking on!